Heatsink Screener
using Makrolon® TC polycarbonate
Simulation Information
Design Space
This Heatsink Screener uses two simulation models to predict LED temperatures:
The Makrolon® TC polycarbonate heatsink model uses a dataset based on the Design Space indicated below.


The die-cast aluminum heatsink model uses the same Design Space, but without the aluminum heat-spreader plate.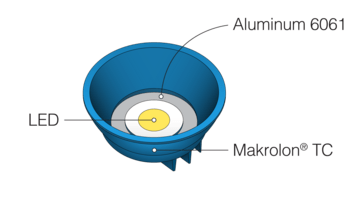 Input Parameters
Thermal conductivity:
0.5 to 22.5 W/mK
Input power level:
5 to 18 Watts
Number of fins:
3 to 7 fins
Fin spacing:
2.3 to 12.8 mm
Optional heat-spreader thickness:
0 to 3.3 mm
Ambient air temperature:
0 to 90 °C
Heatsink diameter:
63.5 mm (fixed)
Heatsink nominal wall thickness:
3.2 mm (fixed)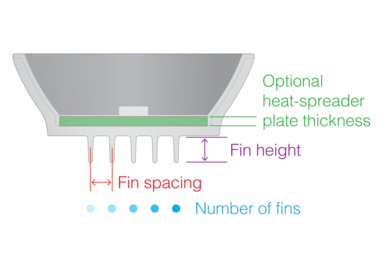 Screen Makrolon® TC Polycarbonate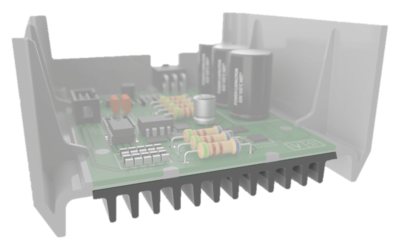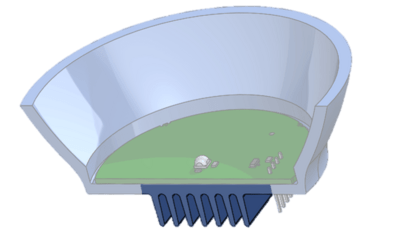 By clicking "Screen Makrolon® TC Polycarbonate",​ you
agree to our

Terms of Use

and

Privacy Policy

.
Experimental Correlation
Heatsink Testing Setup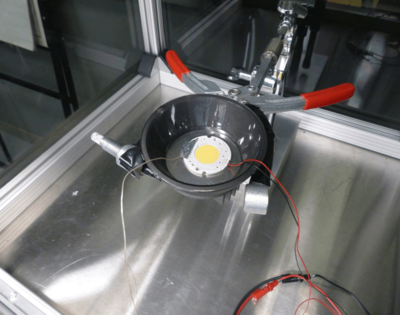 Thermal Image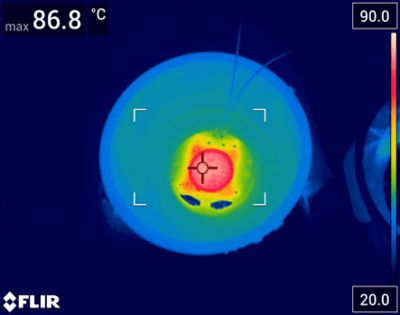 The LED temperature predictions of the Neural Network Model were compared to CFD simulations and experimental test data and were found to correlate well
(see next tab).


Maximum experimental LED temperatures were recorded with thermocouples and validated with thermal imaging.


Thermal Conductivity values used to predict LED temperatures were calculated using the in-plane thermal conductivity ASTM measurement method, then increasing the result by 25%.


Max Material Temperature used to generate warnings and cut-offs are calculated as 18 °C below the material's Vicat softening temperature.